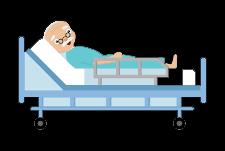 Lying in the hospital bed, a dying man began to flail about and make motions as if he would like to speak.
The pastor, keeping watch at the side of his bed, leaned quietly over and asked,
"Do you have something you would like to say?"
The man nodded, and the pastor handed him a pad and pen.
"Use this to write a note and I will give it to your wife
She's on her way."
Gathering his last bit of strength, the scrawled his message and then died.
The pastor folded the note without reading it, then maintained a vigil until the wife arrived.
When she came, he handed her the note, "His last words," the pastor said.
She fainted when she read, "GET OFF MY OXYGEN HOSE!"